Minority Rights Group publishes toolkit with anti-discrimination strategies for Iranian lawyers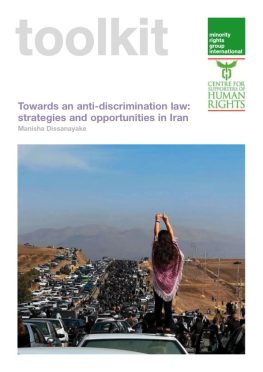 Minority Rights Group (MRG) has published a new toolkit, titled "Towards an anti-discrimination law: strategies and opportunities in Iran". As MRG notes, "Identity-based discrimination in Iran has permeated all aspects of life [...] Minorities are disproportionately subjected to arbitrary arrest, prolonged imprisonment, hate speech and various forms of violence." The toolkit is intended to provide Iranian lawyers with solutions and strategies to tackle discrimination issues in the country and protect the rights of minorities. 
 According to MRG, the toolkit draws "on existing legislation in a wide range of other countries, it also provides recommendations on the design and substance of an anti-discrimination law, offering context-specific solutions to possible barriers lawyers and activists may face in this process. The advocacy and drafting exercises set out in the toolkit are in themselves useful tools for combatting and eroding entrenched norms that perpetuate discrimination."
 More information about the new toolkit can be found on MRG's website.