OSCE commemorate 30th anniversary of High Commissioner on National Minorities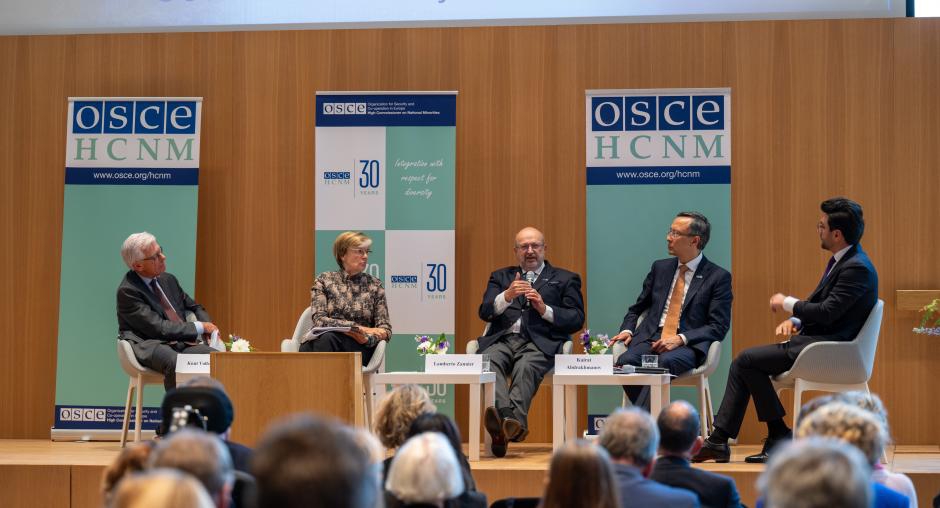 Photo: OSCE/Arnaud Roelofsz
On October 24th, the Organization for Security and Cooperation in Europe (OSCE) marked the 30th anniversary of the creation of the OSCE High Commissioner on National Minorities. At an event in The Hague, current High Commissioner Kairat Abdrakhmanov presented new recommendations on the effective participation of national minorities in social and economic life.
"OSCE participating States have everything to gain from the greater involvement of national minorities in social and economic life. If minorities remain under-educated, underpaid and under-employed because of discrimination or hindered access, whether intentional or not, the economy of the entire country or region may suffer, with possible adverse consequences for members of the majority and neighbouring countries as well," said Mr. Abdrakhmanov.
During the event, two panels were dedicated to presenting the report by the High Commissioner titled, Recommendations on the Effective Participation of National Minorities in Social and Economic Life. The report highlights the connection between conflict prevention, national minorities, and social and economic inclusion, and offers practical tools to facilitate social and economic participation at different levels and in various settings based on the experience of the successive High Commissioners.
OSCE Secretary General Helga Maria Schmid lauded High Commissioner Abdrakhmanov for his work stating, "The High Commissioner's quiet and preventive diplomacy is a vital asset for the OSCE that has led to tangible results all over the OSCE region in safeguarding minority rights and improving social cohesion." 
The full press release can be read on the OSCE website.