South Asia State of Minorities Report 2022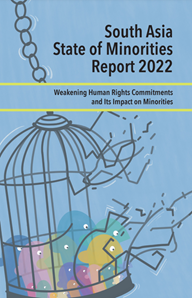 Image: Minority Rights Group
The South Asia Collective has released the 7th report in its series of South Asia State of Minorities Reports, titled 'Weakening Human Rights Commitments and Its Impact on Minorities'. The 2022 report examines the performance of Afghanistan, Bangladesh, India, Nepal, Pakistan, and Sri Lanka and their compliance with human rights standards. Using the UN framework of human rights indicators, the report finds that South Asian states in general have a weak commitment to human and minority rights protection, and that the implementation of existing measures is poor. It identifies the underlying cause as states' overall lack of engagement with the international human rights regime and mechanisms.
The most weakly performing of the examined countries is Afghanistan, where the 2021 Taliban takeover has completely upended the protection of human rights. With the return to sharia law and the dismantling of accountability in governance, national or ethnic, religious, and linguistic minorities have been facing a humanitarian crisis while activists who remain in the country are under extreme scrutiny. On the other end of the spectrum is Sri Lanka, with the remaining countries located in between.
The report put forward several recommendations for various stakeholders and emphasizes the importance of regional cooperation.
The full report can be found here.